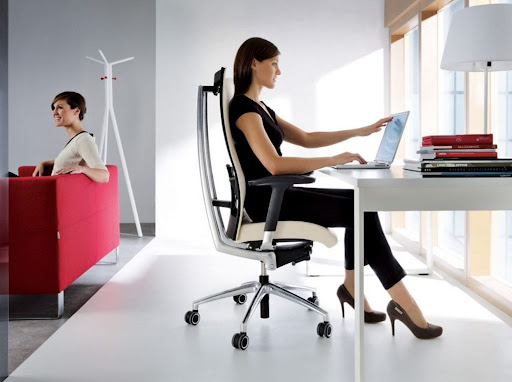 Operating through a space that is most comfortable and healthy for you is essential. This is where your seating posture has always been instrumental. Having a proper posture throughout your working period brings in significant benefits. Ergonomic chairs are those chairs that are specifically designed to maintain and assist your body while working. In addition to ease, comfort, and convenience, it also comes along with various customisable adjustments. However, selecting the right ergonomically designed chair may at times be a tedious task. This piece will highlight some of the essential pointers that will help you to choose the perfect chair.
Also Read: Spotify can't play this right now
Listed below are some of the significant factors to look into before picking your ergonomically designed chair:
Mobility– Make sure that the ergonomically designed chair can move and spin freely so that you can access everything on the table without exerting it. Chairs that facilitate mobility encourage a relaxed posture and improve blood circulation. Furthermore, it must also be stable enough. An ergonomically designed chair with a minimum of 3 – 4 wheels is required to serve this purpose. Also, ensure that the wheels are always of an excellent standard, so the flooring doesn't get damaged. Examine the load capacity to make sure it's suitable for the user.
Backbone Support– An ergonomically designed chair must encourage active seating instead of a stationary position to improve circulation. The standard backrest ranges between 10 to 18 inches broad. It should be competent enough to accommodate the vertebrae's natural bend. As a result, it enables the users to experiment with various reclining positions to ease some of the strain on their lower bodies. According to your body, the compression on the spinal bones and muscle strains will be relatively lower with an adjustable and adaptable inclination angle. The availability of adequate back support and the capacity to alter it is undoubtedly a crucial component. The upper section, along with the head and shoulders, is supported and stabilised by the spinal column. The backrests of the chairs provide abdominal mobility while also protecting the spine and controlling leg motions. Its dip curvature helps to spread weight evenly, reducing tensile stress. Being seated on a chair with no proper cushion back support would result in spine discomfort.
Seat Elevation– The seat's height of an adequately ergonomically designed chair could be altered from 14 to 20 inches from the ground. This size distribution is appropriate for every body type. Your feet must be face down on the floor, and the knees must be at a right angle at a suitable height. The knees and spinal area will be less stressed due to this posture. Chairs with customised modifications are preferable since you can modify the elevation while being seated in it.
Base Fabric– The cushioning on the entire chair should be sufficient and made up of good quality fabric that would allow you to sit comfortably for long durations. Ensure that the overall material used on the ergonomic chairs would not cause any discomfort. The base/seat material especially should not be too smooth or too rough. A smooth cloth would glide you through your seat, while a rough cloth will give hard times to your lower body. A breathable textile is preferred over a tougher base.
Base height and depth– The chair's base needs to be broad and deep enough to accommodate any person conveniently. The dimensions generally range from 16 to 18 inches wide. The seating's depth must be adequate for the seater to be comfortably seated with their back against the ergonomically designed chair's back support while having left about 3 to 5 inches from the knee's back to the chair's base. The chair's front or rear inclination should be customisable.
Selecting an ideal ergonomically designed chair is essential. The pointers, as mentioned above, will indeed help you to get the best!