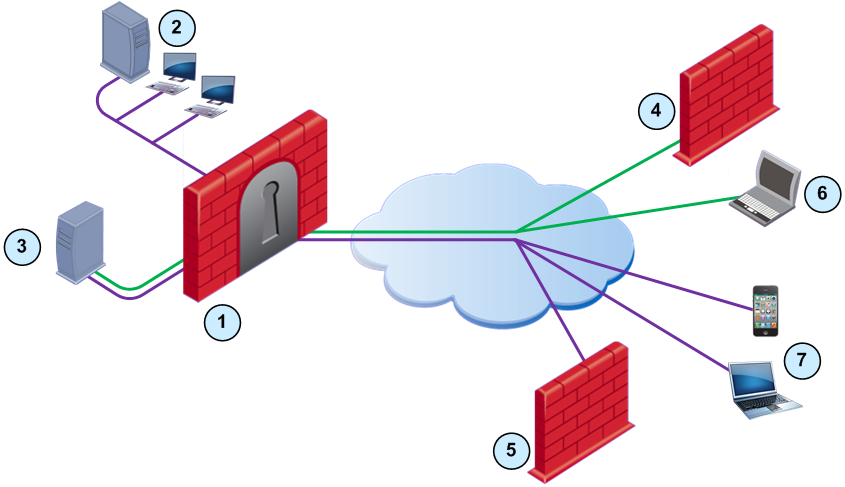 Whether you run a small business or a sprawling corporation, protecting your organization's data is a priority. According to a Clark School study done at Maryland university, there is a cyber attack every 39 seconds on average. The same study also found that 64% of companies experience web-based attacks, with almost 4 million records stolen from these threats since 2013.
These alarming facts should be convincing enough to secure your organization with a robust network firewall security system. A network firewall serves as the main line of defense against cyber security threats. It acts as a protective barrier against unsafe, external networks and scans network traffic for hidden malicious code that could damage your internal servers as well as your devices. But an excellent network firewall can do more than just that. If you're in the market for a network firewall, you should know what features there are in a good one.
Components of a network firewall
These features are pre-programmed in today's top cybersecurity network firewalls to ensure protection.
Packet filtering – this is the primary function of firewalls: to filter the data called packets being transferred between networks and decide if they are safe or not.
On-premises authenticator – a traffic monitoring feature that identifies known devices and IP addresses while blocking unrecognizable ones.
Malware detection – a network firewall can also contain malware scanning technology to determine if attachments, downloadable files, and web pages are harmful or not before allowing them through the network.
Remote access – having a remote access portal is helpful when remote employees need access to your network by connecting them through a secure virtual private network (VPN) tunnel.
Website filtering – this feature allows you to block specific websites based on the firewall's website filters or your configuration or block them based purely on the web domain's name.
Email spam filtering – many phishing attacks occur through email platforms, so having a built-in email and spam filter ensures that only safe content passes through.
SSL encryption – advanced firewalls also possess SSL encryption functionalities that allow you to exchange sensitive information across various networks safely.
Router functionality – firewall hardware doubling as routers allows more devices to connect to a broader area internet network.
Factors to consider in choosing a network firewall security
So now you know what functionalities should be in a network. There are still some factors you should consider when selecting the right network firewall security for your business. These factors are the following:
1. Security threats
Different types of network firewalls exist, and the features can vary amongst various providers. While all firewalls' primary function is to scan and filter network traffic, sometimes businesses require more than just those functions. There are business-critical applications that can boost the security of your workplace networks, such as spam filtering, SSL encryption, and VPN capabilities. So consider what kind of threats your particular business is facing or might be encountering in the future so you can safeguard your business.
2. Network ecosystem
The network ecosystem consists of connected devices, meaning desktops, laptops, smartphones or tablets, operating systems, database management systems, and servers and routers. Identifying the interconnected network system in your organization will help decide whether to avail software or hardware firewall types or perhaps both.
3. Scalability
Even if your business is a small one, you should still consider the scalability of a network firewall to accommodate more if or when your business grows. Usually, adding more devices to a network can benefit from a centralized hardware firewall.
4. Stopping DDoS attacks
DDoS or distributed denial of service attacks is a malicious cyberattack that temporarily or indefinitely thwarts access to servers, devices, networks, or applications by overloading the server until it crashes.
Reported attacks have increased by 200% in 2019 and with no sign of slowing down. This dangerous threat has prompted a more advanced architecture integrated into firewalls to mitigate and prevent these attacks.
5. Firewall alerts
Choosing a network firewall system that gives real-time alerts can be beneficial. The firewall sends out a real-time alert when it prevents unsafe traffic and if a current attack is happening. This can prompt you to open the firewall and identify this attack to send a targeted response back for a speedier turnaround and protection.
6. Level of user access
It would help if you also considered your network users — your employees or customers — and how much access they should get within the network. You can choose firewalls with granular access controls and authentication rules so that only the right people can access the suitable work applications they need.
7. Customer support
Having proper support from the firewall manufacturers is also beneficial since improper setup and configuration of the network firewall might lead to problems. A strong customer and tech support can make a huge difference in the lifespan and functionality of your network firewall security.
The Right Firewall Hardware for Your Business: Sangfor NGAF
Choosing the right network firewall security system for your business can contribute not only to the security of your network but also to its success and growth. Without worrying about your network security, you can have more time developing your business and making it grow.
To ease your mind, Sangfor offers an AI-enabled security solution with Next Generation Application Firewall (NGAF). Sangfor's next generation firewall has Endpoint Secure, which provides simplified management through firewall GUI to help small and mid-sized businesses and Engine Zero that powers NGAF for malware protection.
These features ensure maximum security for your network. So, what are you waiting for? Invest in the future with Sangfor NGAF.