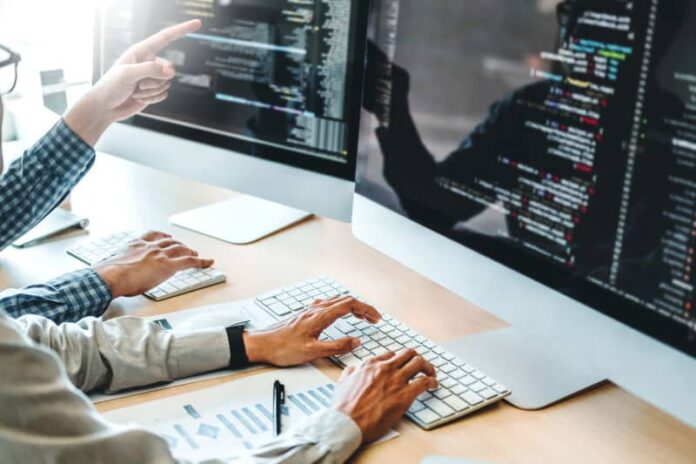 It's worth noting that business processes are getting more complicated, so looking for ways to make work easier for employees should be a priority. In fact, due to the large amount of work that employees need to carry out, they now find it challenging to complete projects and meet the set deadlines. Also, remote work is on the rise, and that means having software is essential to ensure that your team can work efficiently. Some software can help your team discharge their duties without difficulties, and they include the following:
1. Collaboration Software for Enterprises
Understandably, since the inception of the pandemic, most companies have had to opt for remote work models to curb its spread and ensure employees are safe. However, ensuring that workers don't become less efficient during the course of carrying out their remote jobs has been a significant issue for most businesses. According to online collaboration statistics by Finance Trends, 39% of executives believe that only enterprise collaboration software can contribute to making remote work tolerable.
Collaboration software for enterprises is a platform that allows employees to carry out teamwork efficiently. Enterprise collaboration software encompasses components that include emails and instant messaging. Incorporating enterprise management software into your business can help workers to access and store information and track activities. Its benefits include quick problem-solving, excellent accountability, and a higher level of productivity.
2. Software for Communication
If you want a team with strong bonds, tightly knit, and effective cooperation, then it's essential to work on their communication. Communication is vital for businesses because there may be times when they have to pass some information across or let employees know about a change in operations. That's why the use of software for communication is essential to achieve the needed goals set in place.
An example of communication is slack, and it's a well-known tool that teams can make use of to share information, be updated about job progress, and manage projects excellently. It has features that include voice and video calls, messaging, and a communication channel, along with a workflow creator, which can help to automate tasks. Slack allows your team to collaborate with employees from other businesses if any alliance is made concerning projects.
3. Software for Setting Better Goals
Before setting up a business, goals should be put in place to have an objective and alignment with a clear focus. However, establishing several goals and not being able to accomplish the best out of them can prove to be dangerous for a business. This is because the necessary goals needed to grow quicker may become abandoned due to the quest to accomplish others on the ground. That's why having software for setting better goals can help to avoid the problem.
Software for setting better goals helps improve employee performance and increase alignment within the organization.
4. Software for Proof of Delivery
For folks in the courier business, it won't always be easy having a delivery man verify details from a customer all the time. In fact, paperwork can be stressful when trying to ensure that the necessary information is obtained from a customer to avoid errors. There's software for proof of delivery that can make your customer representative team's duties easier. This software is called electronic proof of delivery and is pretty much like the physical version; however, it's digital.
Electronic proof of delivery ensures that records kept can display the delivery of a package with essential details that include the date, time, customer signature, and company information for customer satisfaction. This proof of delivery software enables information sharing between teams which helps to improve communication and excellent coordination in the delivery process.
5. Construction Project Management Software
Since technology is dominating the world of work, trade business owners have to look for ways to improve carrying out jobs or risk getting left out in the competition. It's not surprising that there are a whole lot of technologies which means looking for the best one that suits your business is very important. For example, construction project management helps a business to streamline operations and go steps ahead in achieving growth.
Construction project management software is a group of tools that helps your team of project managers to manage employees, equipment, and jobs easily. With the help of construction project management software, businesses can keep track of their spending on work, enhance the quality of jobs being done and meet deadlines. This software is easy to use, enables collaboration, provides a platform for real-time reporting, and can integrate with other applications. Some examples of construction project management software include Clockshark, Fieldwire, Houzz Pro, and ProCore.
6. Software for Team Management and Integration
Ensuring that teams can keep up with the pace of work is essential, as their duties can be detrimental or helpful to a business. That's why using software for team management becomes necessary, as the digital tool can help them remain connected and satisfied in carrying out their jobs. For example, team management software like ClickUp can help businesses to set up a work environment that is hybrid-friendly. And ClickUp ensures that team members can gather information from any device they use, prioritize goals and monitor work progress.
Also, having software that can integrate with several applications is essential to support workplace diversity and efficient streamlining of job processes. An integration software that comes to mind is Monday, and it's a group of tools that is great for automating business operations. It's an integration software that can work with more than 40 software enabling it to offer various services, including marketing, recruitment, and allocation of resources. Businesses can also use it (Monday) to monitor key performance indexes and budgets.
Conclusion
Successful businesses are still looking for ways to improve and bank more on their progress in the industry. That's why some of them are heavily investing in software to help simplify their business activities and enhance their brands' growth. To ensure that your team remains focused, committed, and satisfied with their jobs, you need to provide software tools that can help them. Some digital tools that can assist your team in becoming efficient include collaborative software, software for setting better goals, and software for integration and communication.