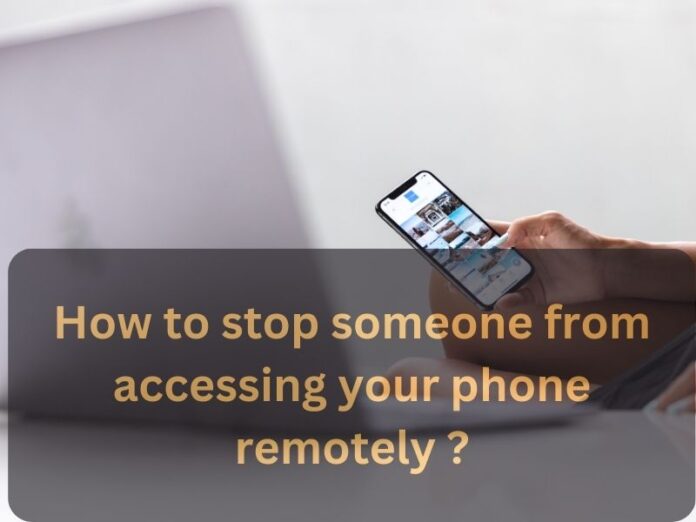 No matter how efficient new hacking techniques emerge, what is unethical will remain. The inception of the latest hacking tools and software has blurred the line between right and wrong. 
But it all boils down to a million-dollar question 'How to stop someone from accessing your phone remotely?'. Fortunately, we have found numerous solutions to stop you from being watched through your own Android or iOS devices. Scroll down to learn more about them. 
Is it possible to access your phone remotely?
Surprisingly, accessing someone else's phone has become the easiest thing in the world. Previously hackers used to send malicious links masking themselves as a service provider to get your credentials. However, nowadays, people use high-tech software to watch your activities before you even know.
The key to protection is not letting anyone access your phone. Check the following methods to keep your phone from being hacked, and yourself monitored. 
How to know if someone is accessing your phone remotely:
To figure out if you are being watched, look for the following signs:
Your phone takes longer to lock and becomes slower in performance

Unknown apps operating in the background

Increased device temperature

Noises in calls

Decreased battery life

Inexplicable pop-ups and messages
Individually, these signs denote nothing harmful except the wear and tear of the device. However, if you notice these signs suddenly and altogether, know that something is wrong. 
How to stop someone from accessing your phone remotely?
Even after taking all mandatory steps, if someone gets remote access to your phone, here are the methods to stop it. 
Method 1 – Sign out of All Accounts:
When you suspect that you are being watched, check your account activity on different devices and accounts. Fortunately, Google shows your active sessions and log-in activity on different devices. So check if you see any sessions from an unknown device.
If you find any suspicious activity, do the following things:
Open your Google or iCloud account on your laptop and sign out of all active sessions

You must sign out from each account separately if you have multiple Google accounts. 

Once you have signed out of all accounts, change passwords to secure them further. 

Now head to your AirDrop app and check for any active sessions. AirDrop instantly notifies you when you connect to another gadget. Lastly, you can change your AirDrop account password to keep it secure. 
Method 2 – Check your smartphone for Spy apps
It is easier to let an unknown app go unnoticed on your phone when you have too many apps downloaded. Check your device for any apps you have not installed yourself. If there are any, delete them immediately. 
To uninstall on an iPhone, simply long-press the app's icon and select 'Remove app' from the drop-down list. Android users can simply long-press and drag the app to the 'Uninstall' option on the top of their phone screen.
Method 3 – Factory Reset:
Even after following the previous instructions, if you feel something is fishy or somebody's monitoring you, resort to a factory reset. Whether it's, Android or iPhone factory reset option is available on every device. It instantly clears technical glitches and viruses from the deepest corners of your phone. 
We listed this tip in the last because it will wipe away your precious data in a matter of a few minutes. But common, this is the least you can do to protect yourself, right?! 
Tips to Prevent your Phone from being accessed remotely:
Did you know you can make it harder for anyone to barge into your phone or remotely access it? Want to know how? Check the following tips to know!
If you are iPhone, you are less likely to catch viruses on your phone. However, if you are an Android user, download only legit apps with genuine reviews. 
Since all accounts are linked nowadays, DO NOT use the same password for all your accounts. Use different, unique, strong passwords for every account and change them as often as possible. 
Don't leave your device unlocked
Never leave your device (phone/laptop/tablet) unattended. Always lock your device before leaving them. 
Conclusion
So that was all on how to stop someone from accessing your phone remotely. Try to keep your phone protected by following these preventive measures. If your phone catches a virus or spyware, log out all your accounts from every device and change passwords immediately; the rest you know!