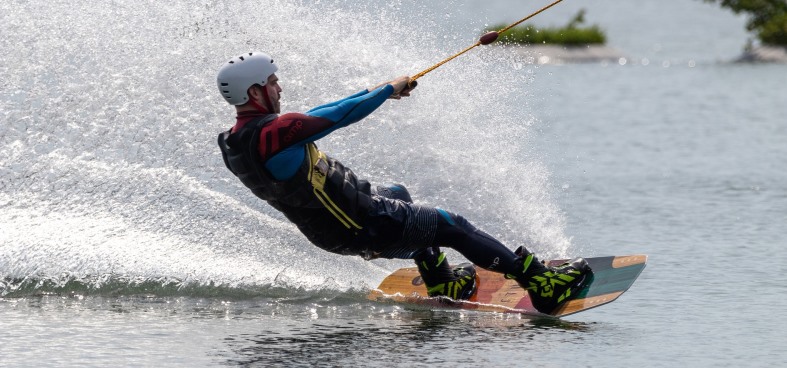 A popular activity in Australia, wakeboarding is also one of the most physically demanding. And as long as one can resist the many falls into the water when learning to balance on wakeboards and straining one's hands while hanging onto the handle, wakeboarding may provide a lot of fun and excitement. Even though, there are certain things that newcomers should be aware of before getting started, which are:
Develop Strong Arms
Wakeboarding necessitates the usage of arm muscles for an extended amount of time. So, focus on developing the strength and stamina to hold onto the ropes or handles for an extended period. Meanwhile, the arms will be put under a lot of stress initially, and they will hurt for a long time. But, keeping practising and pushing yourself to new boundaries is critical. Beginners sometimes complain of sore muscles after their first practice, so be prepared for it for a few days and seek medical attention if the issue continues.
Hire a Coach
They've been everywhere and seen everything, and hence they have a wealth of knowledge about wakeboarding from personal experience. So they'll know when and how to do everything, and they assist newcomers in getting off to a strong start.
Pick the Correct Wakeboard
If you're a first-time rider, you may want to consider renting wakeboards until you acquire a feel for them. Then you may buy a nice one from one of the many trusted shops in Australia. Meanwhile, purchase larger ones and learn to maneuver them before progressing to more complex or deluxe models.
Know Your Limits
If this is your first time, don't go in too hard or too quickly. Before attempting more difficult paces, it's best to start slowly and smoothly. Also, ensure the boat driver and instructor are well-informed about the rules and expectations, especially if this is their first trip.
Warming up
Also, remember to warm up before you go wakeboarding. It will assist in relaxing your muscles and preparing them ready for the task. So, you can start with some simple stretches to reawaken your unused muscles and then on to wrist movements.
Selecting the Right Clothes
Swimsuits are encouraged for novices, although more experienced players may get away with shorts. Meanwhile, swimsuits are preferable for females over bikinis since the latter does not remain in place after a tumble. Also, remember to bring your life vests.
Clarify With the Trainer
Don't go into it with a doubting mind and clear any questions before you start, and the trainer may help you with this. Wakeboarding demands a high concentration level, and even the slightest interruption may cause the user to lose control of their board.
Thoroughly Familiarise Yourself With the Fundamentals
Included in this are the necessary hand signals for interacting with other wakeboarders, drivers, and spotters. Everyone should assume basic swimming abilities, and knowing how to tie a knot is a skill that will come into practice more often than you may imagine.
Keep Yourself Safe
No matter what sport you participate in, keeping yourself safe always comes first. So, when out on the water, make sure everyone is wearing safety gear like helmets and life jackets, and designate a spotter to serve as a radio operator. Besides, make sure you only do waterboarding during the day and that you're not impaired by drugs or alcohol while you do it.
Precautions Suggested by the Australian Government
Knowing the precautions to take before engaging in any water activity is highly suggested. As such, athletes should take extra precautions while participating in boat, beach, and inland waterway sports, depending on their experience level as per Australian Government guidelines.
When participating in boating activities, make sure you have a life jacket with you at all times. People who believe themselves to be powerful swimmers like to ignore this guideline, but it must be followed regardless of their skill level. A complete check of all of the equipment is required as per the guidelines in Australia. And it covers the boat as well as all of the associated safety gear and supplies.
Let someone know where you're going and when you expect to get there so they can keep an eye on you. Meanwhile, preparation for a trip might be aided by consulting the weather forecast. And, to properly pilot and handle a boat, one must get the appropriate education and training in the country.
If there's a problem, bring in a seasoned professional. Make sure you have a reliable way to communicate with the land. And it's possible to save distress signals in addition to other kinds of information.
Beach Sports Safety: Before getting in the water, walk the beach and look for lifeguards; you shall always spot one from the Australian Government department. Keep an eye out for lifeguards and steer clear of sharp rocks. Also, consider bringing a friend with you when you do something fun. Besides, look out for red and chequered flags, which denote "danger" and "boating area", respectively. Inflatable toys should not be brought to the beach due to the risk of their being blown away by the wind.
Also Read: Stream2watch