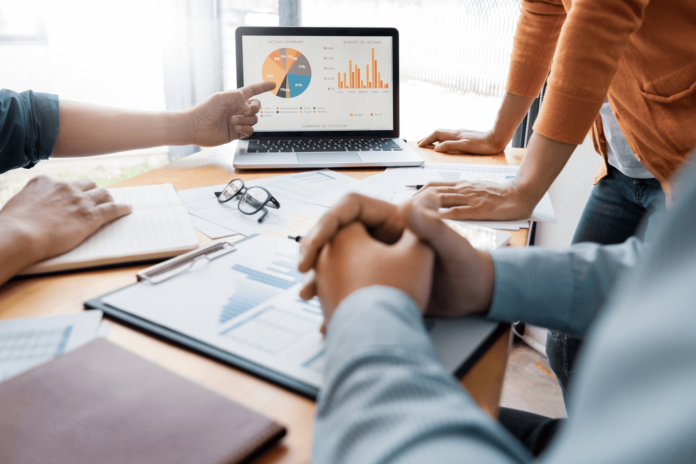 A good business plan helps a company determine its growth strategy, understand its obstacles, assess the resources it will need, and analyze the viability of ideas before launching a business.
A business plan can help an entrepreneur get funding or attract new partners. Investors want to be sure that their investment will pay off quickly. A business plan is a tool that allows you to convince partners that working with your organization will bring them the maximum benefit.
The main elements of a business plan
Business plans vary greatly depending on the type of company and industry, but a few key points are essential in any area. Consider the main sections that you need to add to your document:
Intro and firm overview: it is a section where you present your business plan and describe your startup. Try to be precise and concise about what you want to sell and how your company differs from competitors.
Analysis of the industry, competitors, and customers: you need to understand in which direction the company will develop. Responsible industry analysis involves market research to understand why now is the best time to start a business in that industry. As part of a competitive analysis, experts identify firms with which the company will have to fight and its advantage over rivals. Studying the customer base is essential to determine the target audience.
Marketing and sales: you can choose any existing marketing strategy (or come up with your own), but make sure that it will change and evolve to suit your personal needs. In this section, you need to describe the tools for attracting and retaining customers.
Operational and management plans: in these chapters, you will describe the processes you will use to support your day-to-day operations and the organization's staffing needs.
Financial projections: complete your document with financial data. Your task is to convince the reader of the stability and prosperity of the company. Make a forward-looking economic forecast for the next five years. Add projected income, capital flow statements, and balance sheets, then calculate capital costs. It is better to make monthly or quarterly plans for the company's first year.
Remember that there is no proper or wrong path to creating a business plan. The main thing is that the document fully meets your organization's needs.
Why do you need a business plan?
As mentioned above, investors require a business plan to assess business prospects before providing investment, so many people associate such a document with borrowed capital. Consider other reasons why you should write a business plan even if you are not looking for outside funding:
Determining strategic goals: as you plan, you can refine your ideas to define the size of the company and the amount of time, energy, and resources you will need to put into launching the firm.
The ability to objectively evaluate ideas: if you have several options for the company's development, then creating a minimum business plan for each development path will allow you to identify which conception has the maximum chance of success.
Gather valuable data: when developing a business plan, you must create a portrait of the ideal buyer and carefully research competitors' activities; these insights will help you make more informed decisions in the future.
Hiring: creating a business plan is one of the easiest ways to share your company vision with potential employees and help build their confidence in the firm's bright future.
All over the world today, business plan competitions are regularly held, which offer attractive prizes in the form of mentoring or grants for a solid amount. If you have a good conception, why not tell the world about it?
How to understand your business plan is excellent.
For most entrepreneurs, the challenge isn't finding inspiration to create a business plan but determining if the document is truly perfect. Critically evaluating your ideas and asking for feedback from as many people as possible is critical. Still, some factors will help you conduct the effectiveness of a document on your own.
You can identify intense income months
The document should identify the periods with maximum income and describe the possibilities of how to attract customers again. At the same time, you must do your best to make the current reports better than the previous ones.
The business plan should quickly scale as the business grows. Focus on expanding your customer base, create a unique marketing plan to get as many people interested as possible, and motivate them to return to your firm.
Availability of SWOT-analysis
The study of strengths, weaknesses, opportunities, and threats is essential for any company and determines the main points of its activities:
Strengths – what gives the company an advantage over competitors?
Weaknesses – what aspects put the company at a disadvantage?
Opportunities are factors to consider for future growth.
Threats are things that can harm an organization.
Only an objective assessment of the company's activities will help achieve the desired results.
Determination of goals
At the beginning of each new year, you should create 30-day sales aims for three months, so the staff has specific metric purposes and an understanding of how to achieve these goals. Define your goals based on your business plan by tracking revenue, sales, and conversions.
Working with insights
Data, positive or negative, helps you move forward and make informed decisions. Successful analytics from a business plan allows you to manage cash flows and increase profits effectively.
There are many reasons for writing a business plan, but the main argument for creating a document is that it helps you and your business succeed. Take the time to plan – it's an investment in the future that will pay dividends whether you're trying to launch a new company or grow an existing one.
Charles Cross is a financial who analyzes the financial market incredibly well. He works for the company ICOholder global analytics platform with the largest crypto database. Charles is more than sure that the best work is done quickly and accurately.