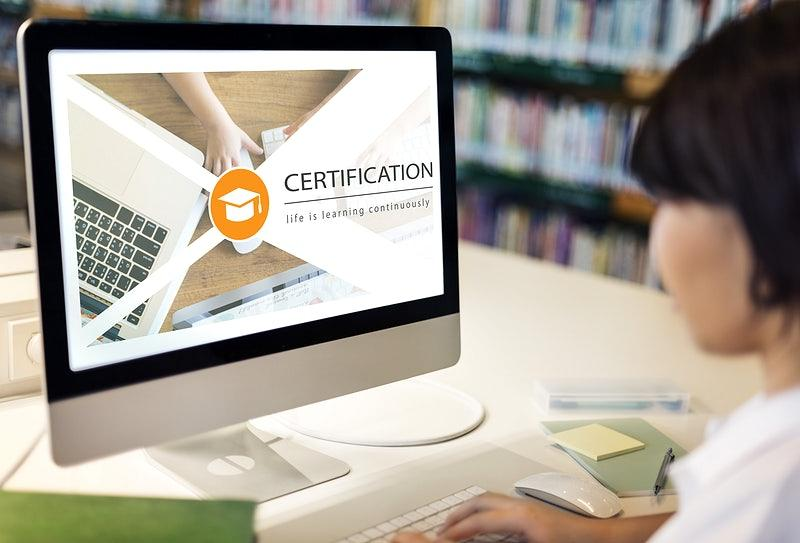 Searching for a new, better job tends to be a never ending process for many. If you feel currently comfortable and knowledgeable in your current position, that doesn't automatically mean that another potential employer would find your expertise acceptable. Therefore, if you're thinking about furthering your career, it's important to impress recruiters, since they're often the first step toward finding a better job. And learning more is always a good way to make that happen. Therefore, here are some of the best certifications that you can get online that will actually improve your odds by impressing recruiters.
Also Read: Darknet kinemaster
LinkedIn-issued certifications
Sure, this might not be the most ideal suggestion, but if you're just starting out on LinkedIn, their certifications can actually improve your visibility on the network. As you progressively add to your profile, you'll be able to access a lot of courses for free. Since many recruiters are on LinkedIn, these certificates can actually signify that you're committed, professional, and willing to learn. It's also a great way to kickstart your career and start your journey toward a more accomplished and better-paying job.
Coursera certifications
If you're interested to learn from the best, then Coursera might be perfect for you. This platform offers certifications in many courses, from medical care to digital marketing. Since this platform is closely affiliated with the Ivy League, this makes it a perfect place to further expand your skills. The course you choose should largely be pertaining to your career goals and interests, so be sure to pick something that you can actually use later in your career. Also, if the idea of a master's degree seems attractive, then Coursera is a great way to achieve it without ever leaving your home. Life-long learning is important and necessary if you're planning to have a high-flying, yet a sustainable career.
Salesforce online certification
For those who are looking to improve their CRM skills, then Salesforce is a great choice. It's one of the most popular CRM online platforms, and getting its certification will likely increase your competitive edge, especially compared to candidates that don't have it. Also, once you complete the course, you will be able to implement the data to find the best solutions. Salesforce offers numerous credentials, which is why it's important to pick the one that is aligned with your career goals. As a beginner, it's generally recommended starting with a Salesforce administration certificate, as it will provide you with a great base to educate yourself further if that's ever necessary
Microsoft certifications
Microsoft is your safest choice if you're unsure where to start. This company defined and later continued to redefine the world of computer science and IT in general. Therefore, if this seems appealing, then feel free to browse Microsoft certs and choose those that might be fitting. After all, using Microsoft tools is considered a must in many companies, so choosing their certification will likely help you seem more serious and professional by recruiters. If data analysis, AI engineering, or data science seem something worth pursuing, then Microsoft is a great place to educate yourself and earn a valuable certificate.
Project management certifications (PMP)
Getting certified in project management is a great move considering that employees love seeing such credentials on one's resume. Project management certification is a great asset as it directly proves that you have the ability and expertise to complete projects from their inception to completion regardless of the industry you're part of. If you see yourself as a future leader, then PMP certification will only emphasize the fact that you have organizational skills to lead teams and support unity among all participants.
Google certifications
This text wouldn't be complete without mentioning various Google certifications. The company offers a wide range of certifications, from software engineering to digital marketing. Many recruiters (and employers) love candidates who have some Google certificates, notably Google Analytics and Google Ads. Getting these certificates will prove that you have a basic understanding of core platforms that are currently very much in demand. Since Google has so many certificates to pick from, it's very likely that you'll find one that could be beneficial for your career.
Certified ethical hacker certificate
Demonstrating your ethical hacking skills means finding vulnerabilities in computer systems in order to prevent actual hacking. So, you'll be using the same methods and techniques as black hat hackers, but your goal will be establishing better security and preventing potential attacks. As an ethical hacker, your job will be to spot weaknesses in the company's systems and networks and then use your expertise to protect them from malicious attacks.
These online certifications are a great way to jumpstart your career, especially if you've been stuck in a professional rut for a while. Recruiters love assertive, knowledgeable, and smart candidates who are committed to constant growth and learning, as that is a sure sign that they'll be excellent employees one day.